We needed a Little Monika for some reenactment scenes in the documentary.
Enter Maddie – an adorable eight year old, cuter than pie with a set of sturdy Mennonite genes to make my zweiback-baking mother proud. We signed her on in a heartbeat and promised to pay her in dried cherries.
I have a few pictures of my mother, Monika, from the 1940's and in all of them, which span several years, she is wearing the same dress, as though she didn't grow at all in that time period (which might be true – that's what happens when one is malnourished).
Both my mother and grandmother were seamstresses and, most likely, my grandmother sewed the original version of this dress.  The nostalgia factor from having the dress hand-sewn by me (daughter and granddaughter) was obvious and therefore an absolute must. I jumped on my sewing machine immediately.
The next day Maddie was wearing the dress. It has gathered sleeves, a gathered waist and some giant pockets on the front that could potentially hold a lot of cookies. I explained to her that she may not like the plain old dress – it's not fancy (post-war) … no sparkles … but before long she was doing twirls and smiling from ear to ear. I put her hair up in a roll at the top with two braids and she was set.
And there you have it! The making of Little Monika. It wasn't long before we were traipsing through the pathways, trails and brooks around my home with one simple set of instructions for Maddie. Be cheerful and little bit mischievous. Oh, and steal a few cherries, if you don't mind.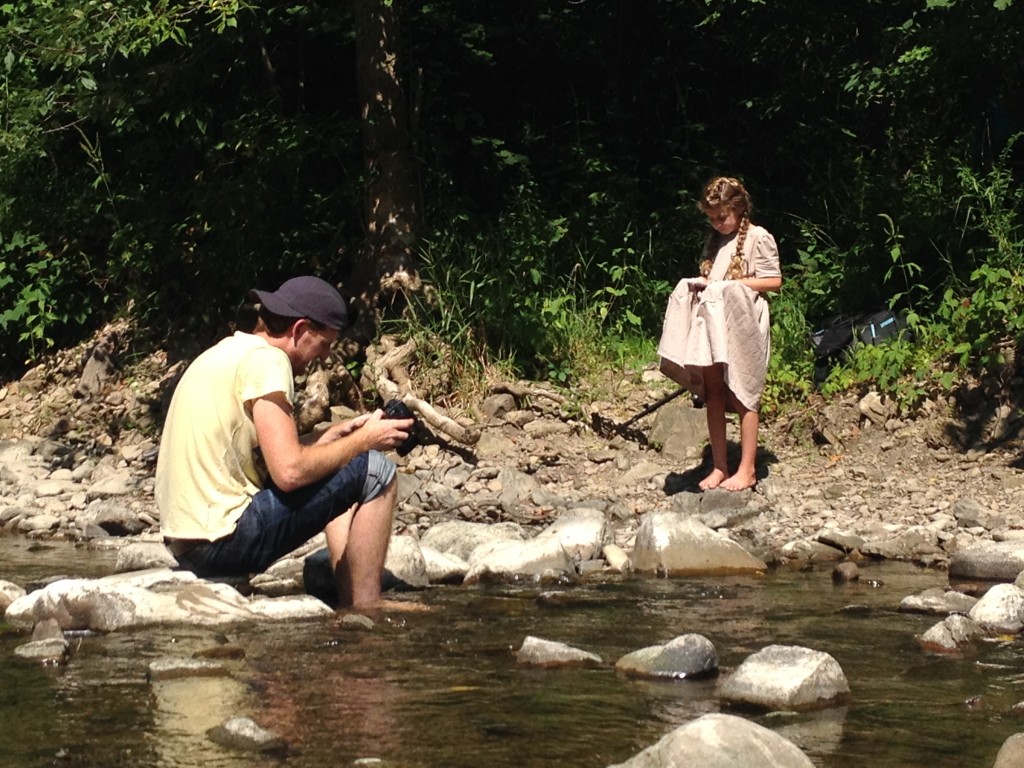 The whole day, Maddie indulged us with being her lovely, cheerful self. She skipped and ran through the forest. She waded through a creek over slippery, mossy rocks. She sat on a log for us, her feet dangling in the brook. She stole a whole bunch of dried cherries and in doing so decided that she definitely prefers dried ones to "real" ones. Stolen treats always taste better than respectfully procured ones – that's my experience.
Even though our filming with Maddie is mostly done, we haven't seen the last of that dress. I have reason to believe a certain very excited 8 year old girl will be dressing up as Little Monika for Halloween this year.
Adorable.