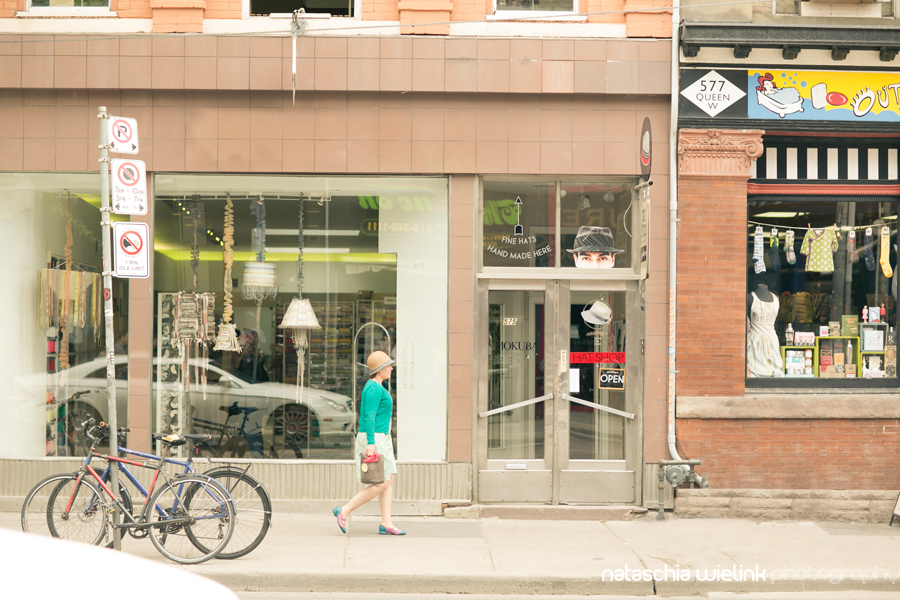 A full lunar eclipse illuminated the Halifax sky on the night Sheri and David fell madly in love. Earlier, there was a cafe, two cups of tea, a mutual friend and words that would set the wheels of love and life into motion.
His words were, "I would change the course of my life for that woman".
Later, under the light of the giant moon, there was a lazy stroll that lingered into the wee hours of a maritime morning. As the stars dimmed and the sun rose, sparks flew. As tumultuous love stories often go, the pair parted; he left for New York while she remained in Halifax.
Through mailed letters and a whirlwind wedding, Sheri and David managed to merge their separate paths into one, eventually planting roots in downtown Toronto.
Together. In love. Happily ever after.
This is the "Coles Notes" version of the almost unbelievable love story they shared with me.
Sheri and David are co-owners of Wildhagen Hat Shop, a wife and husband team with a love story to beat all AND the most fabulous creators of handmade hats.
You can find their shop tucked in amongst a flurry of fabrics and sewing machines on Queen St. West in Toronto. At the top of a tall flight of stairs, their loft-style studio has giant windows looking out to the busy street below. Every wall in the shop is adorned with rows of breathtaking hats with the best names, ever, by the way. Juniper, Chico, Belmondo, Skipper, Lupin, Cocteau Cloche, to name just a few. The hat I fell head-over-heels for goes by the name "Sandrine".  Admittedly, I am weak when it comes to hats, so was easily smitten – especially when I was told I could choose any fabric and weave combination that I wished!
I was in hat heaven.
Together, Jess (my hat consultant) and I deliberated over the best combination of materials for my custom order. All decisions made, my heart was a-pitter-patter with excitement and anticipation.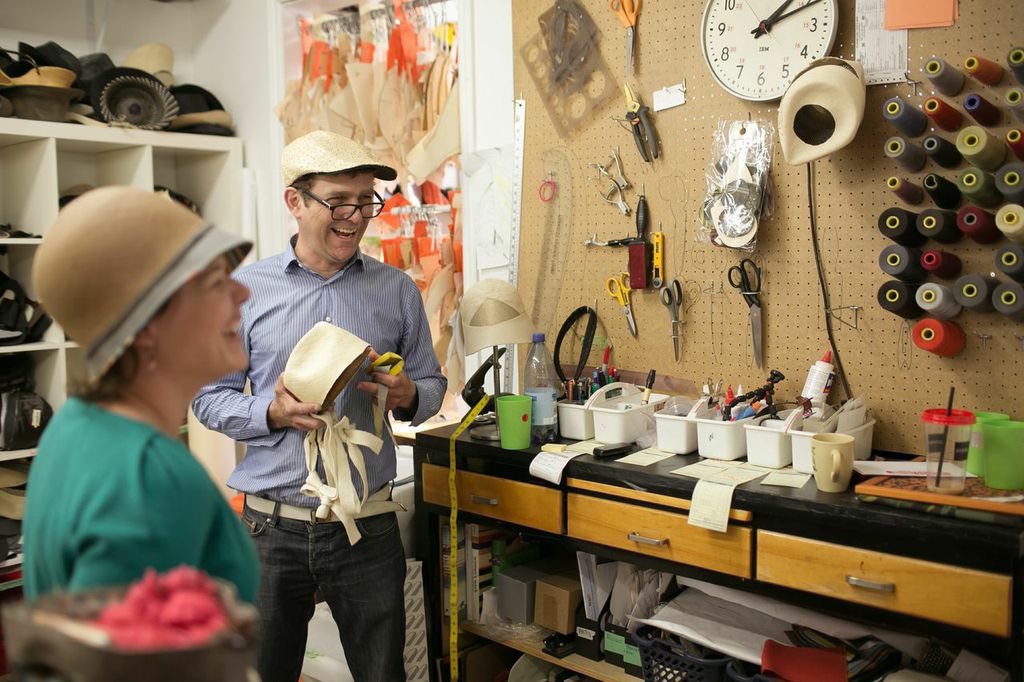 Back in Niagara, waiting for my hat to be created, from time to time my mind would wander and day-dream about it a little bit. I thought about the brim which would be made of two fabrics: waxed, waterproof cotton on the top and a colourful striped English wool designed by Paul Smith  on the underside.  There would be a lovely band at the point where the crown meets the brim, made in a Danish wool, woven in two colours (referred to as having a 'warp and weft'.)  My chosen wool warp and weft were in apricot and indigo. The crown would be Panama straw, hand-woven in Ecuador using a technique which will soon be Unesco protected. Finally, the band of ribbon on the inside would be from Mokuba, a tantalizing ribbon shop just one flight down from Wildhagen.

In the Wildhagen studio, a curtain was all that separated retail-space from work-space. A large, round hole was cut into the curtain and, whilst peering through, I was reminded of the Polka Dot Door. Through the magical hole and beyond the mysterious veil, all was revealed. Hat elves were working away! Sewing machines whirred, scissors snipped and the iron puffed out big clouds of hot steam.
In total, beyond the Polka Dot Hole, there were three elves. Sheri (pattern designer and developer, sewer and doer of extra complicated things), David (straw shaper, blocker and sometimes ironer), Jess (cutter, sewer and doer of a little bit of everything). These three rub shoulders (literally) in one of the most efficient work spaces I have seen. They work as a team, passing hats around like batons, communicating pertinent details along the way.
Hanging above Sheri's sewing machine are two rows of original paper patterns. It's an impressive array.  I paused to let the beauty of them sink in. I can't even imagine the time it took to develop these.
I asked Sheri how this hat-making business got started, anyway.
One day 12 years ago, Sheri decided to make a hat. Just like that. While in New York, she had worked for Calvin Klein in the alterations department, which was basically boot-camp for all future endeavours involving fabric and pattern making. At the time that Sheri decided to try her hand at hat-making, there was little support or education for millinery so she went to the Toronto Public Library and educated herself. Then, as she told me "I decided to apply what I knew about textiles … to something I didn't know anything about." 
She has developed her extensive collection of patterns through the time-tested method of trial and error and has never been to "hat school".  I think it's precisely her "unschooling" which gives her patterns an originality that can't be labelled.
I appreciate her fearlessness of stepping into an unknown world to just give it a whirl – to see what would happen.  Had she played by the rules or waited for a certificate of approval – some kind of permission – perhaps her designs would have been different or much less noteworthy. Perhaps she wouldn't even have tried at all.
As I look at my new hat, I see reflections of Sheri's former textile world. My Sandrine is sassy with a brim cocked out to the left as if to say "Yeah, I have some attitude!"  (At least that's how I feel when I put it on!)
Sheri and David are an inspiring team. Married for 17 years now, the hat business is an equal joint venture, even though people still refer to it as "Sheri's Hats".
I am inspired by their mutual respect. It seems as the hat business grows, so does their love.
All photographs by Nataschia Wielink 
To visit Hat Heaven go to: Wildhagen Hats